CONFERENCE: EXPLORING THE BORDERLANDS
Photo-Static Impressions
For me, as a child born of war, the conference was the beginning of writing history. The energy that dominated the conference is the energy that should rule the world. Understanding, solidarity, empathy, support,security-thanks to Birmingham and participants.
AJNA JUSIĆ, Bosnia
Sabine Lee, Gerd Fleischer, Ajna Jusic, Nadja Delic-Klevstadt, Norah Bianculli, Alen Muhic, Lejla Damon.
Ich danke der "Borderlands Conference",dass sie uns, Theaterleute, Wissenschaftler,und Aktivisten aus ganz verschiedenen Ländern an einen Tisch gebracht hat und dass dieses Experiment so fulminantgeglückt ist. Es war nicht vorauszusehen, dass wir binnen zwei Tagen ein gemeinsames Denken entwickeln würden, das uns unseren Themen näherbringt, den Rücken stärkt und Mut gibt. Wir haben voneinander gelernt,was es heißt, gegen die blinden Flecken der gegenwärtigen öffentlichenWahrnehmung vorzugehen und schmerzliche, vielleicht auch gefährliche Wahrheiten auszusprechen.
I am grateful to The Borderlands Conference which allowed us to share our vital experiences in documentary theater and related research. The fact is, it created a common ground and a common passion far beyond expectations. In these two days, we understood from each other what it means to work in the blind spots of reality and to speak out painful, possibly dangerous truths.
KARL BARATTA, Austria
Inger Skjelsbaeg, Gerd Fleischer, Ralf Harster, Amy Wilkins, Jessica Moretto, Karl Baratta

Diana Costa: Keynote Presentation: SOCIAL AND EMOTIONAL ASPECTS WITHIN COMMUNITY AND PARTICIPATORY ARTISTIC PROJECTS
A wonderful idea to bring high qualified Academics and Artists together, in an inspiring conference and workshop in Birmingham!
For sure the excellent organization, well -balanced panel-discussions, presentations and creative dialogues produced a new network for artistic and academic activities. So more public and political interest will support denied and invisible "ChildrenBornofWar"- and make them visible like "In the Name of the Father" does.
GISELA HEIDENREICH, Germany
Ralf Harster, Karl Baratta, Gisela Heidenreich, Lukas Schretter, Samuel Bartussek, Adrian Jackson, Nicholas Crowson
"Eine konstruktive Auseinandersetzung mit tabuisierten Themen empfinde ich für unsere Gesellschaft als grundwichtig. Wir müssen uns mit Fragestellungen, Notwendigkeiten, Bedürfnissen,Verständlich-und Grausamkeiten flexibel und offen auseinandersetzen.
Die Auseinandersetzung muss in Gang gebracht und gepflegt werden, um voreiligen Urteilen den Grund und Boden zu entziehen, um neue konstruktive Perspektiven aufzuzeigen und um die großen Werte, Rechte und Pflichten immer wieder in den Fokus der Aufmerksamkeit zu ziehen und entsprechend zu gewichten.
Die Arbeit in Birmingham war eine sehr wichtige. Sie war der Beweis, dass es möglich ist, so unterschiedliche Menschen so fruchtbar zusammenzubringen. Ein Raum war geschaffen, in dem gemeinsames Erleben, Hinhören, Verstehen, Fragen und Antworten möglich war.
Die Mischung aus Akademikern unterschiedlicher Fachrichtungen, Betroffener, Aktivisten und Künstler, allesamt aus aller Herren Länder, brachte eine besondere Intensität im Austausch hervor, die neue Gedanken und Fragestellungen gebar und das Licht ins Dunkle brachte. Die Arbeit in dieser Form muss unbedingt weitergeführt werden und ihr Ansatz kann ohne weiteres auf andere Themen übertragen werden.
Ich werde alles Erdenkliche dafür tun, dass auch wir in der Schweiz Gastgeber für einen weiteren Gedankenmoment zum Thema Children Born Of War werden.
KAMI WILHELMINA MANNS, Switzerland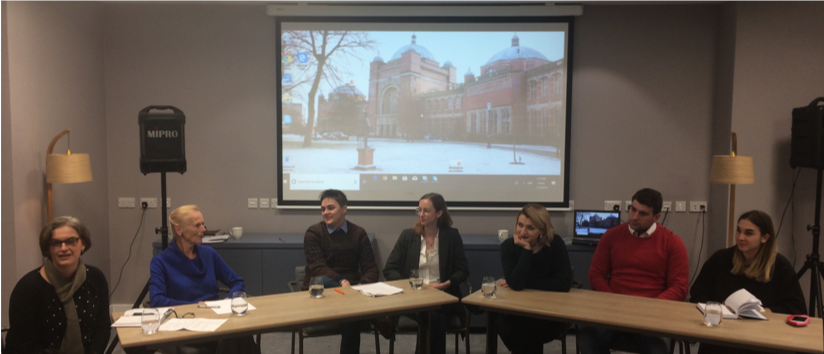 Inger Skjelsbaeg, Gerd Fleischer, Ajna Jusic, Nadja Delic-Klevstadt, Norah Bianculli, Alen Muhic, Lejla Damon
"I consider that a constructive examination of topics treating taboos is of fundamental importance for our society. We must deal in a flexible and open way with questions, necessities, needs, the understandable/comprehensible and cruelties.
The debate must be set in motion and cultivated in order to combat preconceptions, to show new constructive perspectives and to draw attention to and to give importance to the great values, rights and duties,time and again.
The work in Birmingham was a very important one. It was proof that it is possible to bring so many different people together so fruitfully. A space was created in which common experience, listening, understanding, questions and answers were possible.The mixture of academics from different disciplines, survivors, activists and artists, all of them from all over the world, produced a special intensity in the exchange, which gave birth to new thoughts and questions and brought light into the dark. The work in this form must be continued and its approach can easily be transferred to other themes. I will do everything in my power to ensure that we in Switzerland also become hosts for another moment of reflection on the subject of ChildrenBornOfWar.
KAMI WILHELMINA MANNS, Switzerland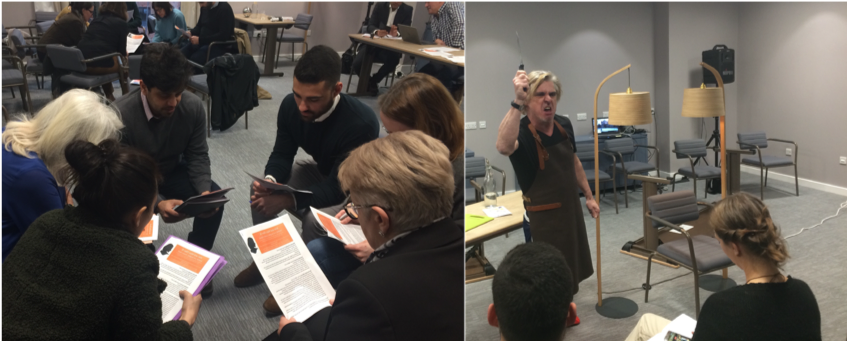 Gisela Heidenreich, Kami Manns, Dheeraj Akolkar, Marvin Toulon, Amra Delic, Nadja Delic-Klevstadt, Karlo Severdija
Although I study and involve academic research, historical facts, interviews and different heavy life stories in my theatre work for years already, Birmingham conference has been an unbelievably deep ,mind and soulful filling experience. It brought me new knowledge, different perspectives and approaches of academic research and how to involve them into my art work. Meeting all those beautiful individuals on one place and share their life and work experiences was really inspiring and hearing testimonies from the Forgotten children of Bosnia group and Children born of war from World War II, make one the most touching experience in those two short days. I'm really grateful for having an opportunity to get to know a net of special people and for an exciting feeling and confirmation that our academic and artistic work may have a deeper meaning.
NEDA BRIC, Slovenia
WorldCafé: Developing Audiences for Hard Topics. Panel Discussion: ARTISTIC PRESENTATION, RISK AND RELEVANCE. KanakoKuramitsu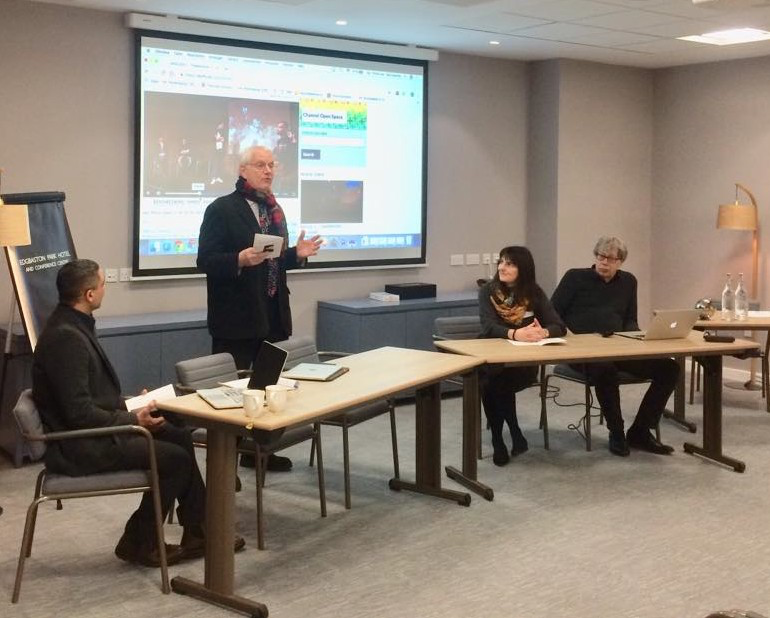 Prof. Michael Whitby, Pro-Vice-Chancellor and Head of the College of Arts and Law, University of Birmingham (UK)
The event was a remarkable opportunity to look deeply into the meaning, possibilities and limits of communicating(his)stories, that are of great relevance for the transformation of post-war and post-colonial societies. Collaborations between arts and academia can provide a unique support to moving towards a more integrated transformation. The exchange on the 'why' and 'how' were discussed in a highly innovative and holistic way, that allowed agents of all kinds of background and different generations to share their questions and expertise at eye level.
JULIA FELDER, Austria
Abir Hamdar, Lyndsey Stonebridge, Adam Ledger, Kathryn List, Teresa Turiera, Karl Baratta
"More often than not, the worlds of Academics, Arts and Activism stay in the comforts of their own boundaries, unaware of each others' prowess.
The extraordinarily charged conference, "In the Name of the Father", organised by Darrel Toulon and Sabine Lee, managed to successfully deconstruct those boundaries in the most creative and uplifting ways. The ideas germinated during the conference and the connections made will go along way in forming enduring collaborations of unique significance, of which I am extremely certain!"
DHEERAJ AKOLKAR
Attending this conference was energising, and demonstrated the vast potential for academic/creative exchange and engagement. The power of the witness testimonies placed the day-to-day challenges of being an academic firmly in perspective.
NICK CROWSON
Sara Jones: THE FLUID BOUNDARIES BETWEEN FICTION AND TESTIMONY AND THE COMPLEXITY OF AUTHENTICITY IN ART
All Photos©thealphagroup