IN THE NAME OF THE FATHER
IN THE NAME OF THE FATHER is a project constructed at the crossroads of performance arts, politically relevant theatre, and academic research. As an inter-disciplinary, multi-pronged, internationally spread and long-term project, it is informed by publications from Academics and Scholars: I have been working in close partnership with Dr Prof Sabine Lee of the University of Birmingham, who is currently coordinator of Children Born of War Innovative Training Network CHIBOW, an international interdisciplinary and intersectoral research network, to develop IN THE NAME OF THE FATHER.
The central axis of this PROJECT, is a three-part docu-dance-theater production, where the performers and protagonists will be actual Children Born of War, supported by a few professional artistes. Docu-dance-theater has become my signature work since 2015, and involves transforming facts and life-stories into moving/movement pictures or scenes for performance, using the biographies of the people I work with, to create non-fiction pieces that can take an audience on a journey to a(-nother) world which is at once very real, inhabited by the very performers onstage. The facts inform the movement choices and provide the content of all scenes. I always invite the participants to provide some music which is of great personal importance, and use this as key to creating their scenes. The performance makes use of diegetic and non-diegetic sound, in that the live and previously recorded voices of the performers can be embedded in a soundscape which could also include newsreel and archive sound files. Interviews made before, during, and after the rehearsal periods, allow me to add their reflections not only of their past, which may be in dialectical tension with their concurrent physical tasks or actions onstage, but also and more importantly, cumulative reflective thoughts on the artistic process they are currently going through. This juxtaposition combining perspectives of both past and present, in turn gives rise to a (new) third point of view – which, in performance, allows the recipient to share in the transformative nature of the work.
They do it with their own words and actions by revealing themselves, my work is transforming their traumatic experiences into a performance that can also be appreciated for its aesthetic quality while sharing vital knowledge of humanitarian value.
The transfer of knowledge, particularly in this Project is of paramount importance, and so in tandem a Film-maker and Photo Artist will document the processes, workshop, interviews, rehearsals and performances. An Exhibition of Images as well as a Screening using multi-media, will form part of the final presentation of IN THE NAME OF THE FATHER.
There will also be the continuous involvement of a team of researchers. The study and research of Children Born of War is a relatively recent development, and this situation presents a golden opportunity for further observation as the subjects open up in the new situation of creative workshops – physically and psychologically, in a process of trauma-transformation.
A series of accompanying Discussions, Conferences, Symposium, Pre- and After-Performance talks are planned to share this knowledge among experts of the field, as much as the general public. First of these "Vermittlung" Projects will be a conference to arrive at an enhanced understanding of the use of creative and performance arts for the transfer of knowledge to amplify the impact of academic research. Over two days, invited delegates will explore the borderlands between performance arts, political theater and academic research.
The intergenerational and cross-geographical aspects of this global issue will be evident in the 3-part structure of IN THE NAME OF THE FATHER – which will begin with a Prologue the content of which sets a 70-year-old "child" born at the time of the Second World War (1939-1945), setting the parentheses for the 20-something year old "children" of the Bosnian War (1992-1995), followed by the "children" of the War in Uganda (1988-2006)
Concerns of this Project
War is an omni-present contemporary issue, nourishing the roots of the major demographic shifts, causing upheaval in our societies. The scars of war have cut deep into the bodies of civilians over generations, leaving gaping wounds of consequences that determine how fragile lives are, or are not, held together even as countries and nations tear themselves apart.
Research on the Consequences of War is a relatively young area, in particular the research being done on Children Born of War. Some of the "children" being studied at present are currently in their 70's, and have suffered their entire lives as spoils of the second world war- in a haze of stigmatisation, discrimination and non-acceptance. This dark cloud threatens to block out the 20-25-year-old "children" of the Bosnian-Serbian war, who as young adults could be given a chance for a better life, if the lessons learned from the past are heeded and implemented for change. The War in Uganda presents a younger age-group of world citizens who have a whole adult life ahead of them.
Children Born of War (CHiBOW) are shaped by a wide variety of emotional situations ranging from self-hatred, as the embodiment of pain and the humiliations of their mother, to a positive attitude to life. Both the positive and negative aspects of the CVs of these CBOWs are important and constructive indicators of integration and development in our society.
The so-called "invisible children", or "children born of war" (CBOW), will be given a platform through "IN THE NAME OF THE FATHER" to tell their stories in a choreographed production.
… giving them a voice … rolling up the carpet to try to make things clear …
 Overview of project
Children of foreign – and often absent – fathers in volatile post-conflict situations, (…)
whose mere existence frequently creates personal, familial, societal, cultural, political problems
in what are often very unsettled post-conflict communities and states.
Wherever there is armed conflict, soldiers come into contact with local civilians (…) and
almost always a proportion of these military-civilian contacts (…) result in intimate relationships,
whether friendly and consensual or exploitative, coercive and violent.
They frequently lead to children being born.
Overall, it has been estimated that tens of thousands of children have resulted
from mass rape campaigns or sexual exploitation and abuse
during times of war in the last decade alone (Grieg 2001)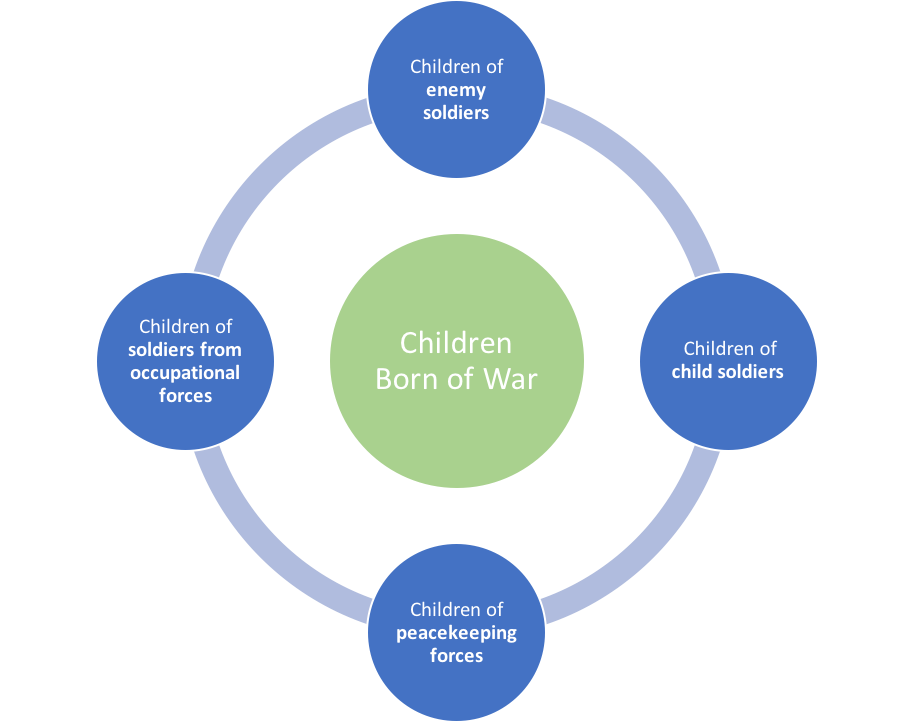 The Four Categories of Children Born of War (Lee 2017)
An Opportunity for Post-traumatic growth 
"The Foundations of Posttraumatic Growth: An Expanded Framework: Handbook of Posttraumatic Growth: Research and Practice" published in 2006 by Lawrence Calhoun & Richard Tedeschi12offers a guideline as to understand how traumatic experiences can lead people to reframe those events, to find meaning and purpose in their lives becauseof these events.
"In Calhoun and Tedeschi's posttraumatic growth model, a person experiences a 'seismic event'that disrupts their internal narrative, the story they expected their life to take". This leads to a phase of 'rumination', like crossing a narrow bridge suspended over a canyon, the place where they turn over things in their mind, to make sense of the event. Rumination is followed by 'self-disclosure'wherethey become comfortable writing andtalking about the event, where they become eager to share how the event has changed them for the better."
Carmen Gallio
"The Storyteller's Secret"